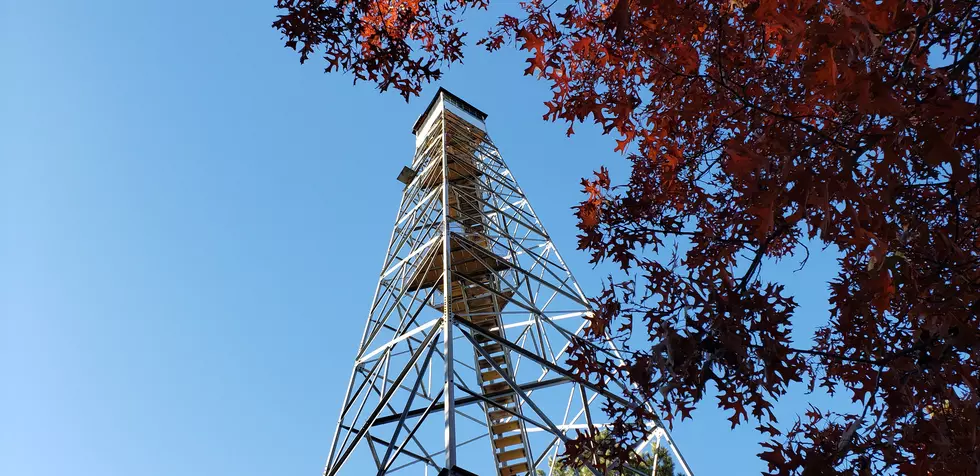 Take a Fall Hike to this Renovated Fire Tower in Pequot Lakes
Tim Lyon
After a warm start to October, we are looking at cooler true fall temperatures for the foreseeable future. That is just fine though because this hike up to the top of a 85-year-old fire tower will keep your blood pumping.
The newly renovated Pequot Lakes Fire Tower just reopened to guests this past June thanks to push from longtime Crow Wing County commissioner, Paul Thiede. The Brainerd Dispatch reported:
Thiede pushed the idea to have the county buy the tower and the 40 acres of land it sits on from the Minnesota Department of Natural Resources. The county did just that in late 2018, for $1.
To honor Thiede and his vision to fix the tower and turn the surrounding 40 acres of land into a county park, they named the park after him. Paul M. Thiede Fire Tower Park is located off County Road 11 in Pequot Lakes, and is ranked #4 out of 9 on the list of things to do on Trip Advisor. Crow Wing County is actually in talks of purchasing 70 more acres of land to add more trails to the park.
The tower itself was closed in 2017 by the MN Department of Natural Resources because of vandalism and maintenance costs. It was listed on the National Register of Historic Places that year as well, and luckily it just needed some basic maintenance to be safe for guests. It stands100 feet tall and is a climb of 135 steps to the top.
If you are looking for a great fall day trip (and you aren't scared of heights and a few stairs) checking out this fire tower is the adventure for you. You can find Paul M. Thiede Fire Tower Park at 5230 County Road 11, Pequot Lakes, MN.
Pequot Lakes Fire Tower Offers Spectacular Views From 100 Feet Up
Enter your number to get our free mobile app
Take a Hike at Mille Lacs Kathio State Park