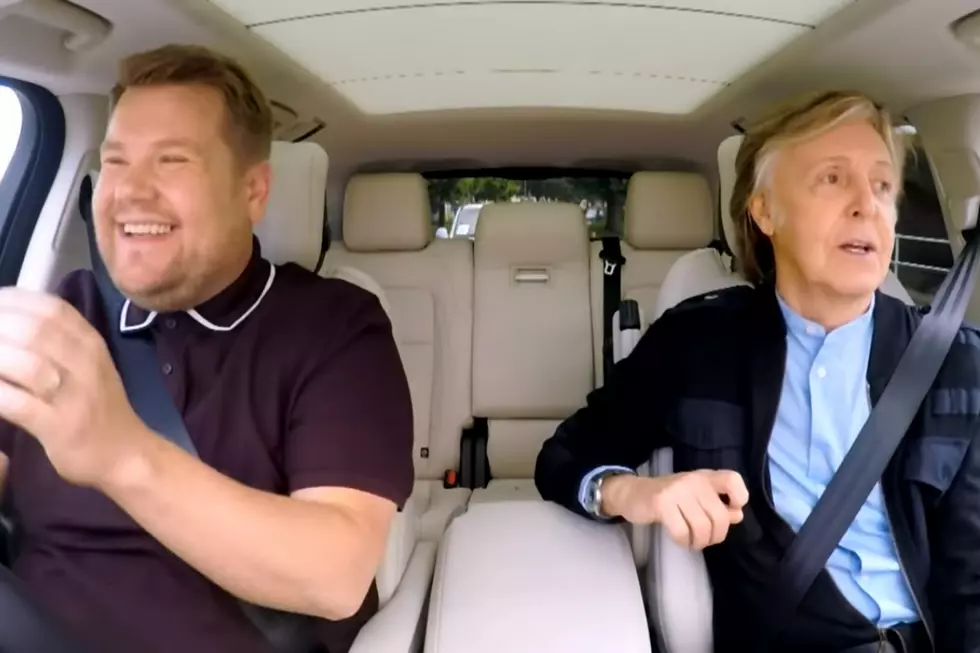 Why Paul McCartney's Carpool Karaoke Left Me in Tears
The Late Late Show with James Corden via Youtube
My wife and I recently watched the latest episode of Carpool Karaoke featuring former Beatle Paul McCartney, and I have to be honest -- it left me in tears.
In Corden's latest episode, we find him in Liverpool, England with guest 76-year old Paul McCartney. Throughout the video, the two adventure through some of McCartney's past -- including Penny Lane, the barber shop he sings of in the song by the same name, the house he grew up in, and a pub he used to perform in -- as the legendary Beatle shares stories along the way.
While my wife and I smiled and laughed our way through much of the 23-minute video, I was surprised to find myself -- at times -- in tears. A couple moments were so beautiful to watch I was overcome by emotion myself.
In one scene, Corden and McCartney sing "Let It Be" together. As they conclude the tv host finds himself unexpectedly moved to tears as he shares what the song means to him:
"I can remember my granddad who's a musician and my dad sitting me down and saying, 'We're gonna play you the best song you've ever heard.' And I remember them playing me that." He wipes a tear and sniffs as he continues, "If my granddad was here right now he'd get an absolute kick out of this."
Almost poetically, McCartney simply responds, "He is."
Towards the end of the episode, Corden and McCartney have made their way to a pub where unassuming patrons have gathered to drink. Corden encourages a guest to choose a song from the jukebox. She does, and a curtain suddenly rises to reveal McCartney and his band. They go on to perform a private, intimate show for those gathered in the pub. As he concludes with a round of "Hey Jude," the cameras pan over the faces of those gathered there, many moved to tears of joy. I couldn't help but join in with them.
Reading through the comments section of the video afterwards, I know my reaction to the video was neither silly nor unbidden:
"This is not just Carpool, this is history! Well done James!" reads one.
"Gosh I LOVE PAUL! My wife and I watched this with our 8 year old son and my mother in her 60's and all four of us were laughing, singing and tearing up (alright the 8 yr old didn't cry BUT HE SUNG & LOVED IT!)" reads another.
And yet another comment reads, "It is so rare to find a You Tube post so full of positive reactions. And looking through the posts I see that the music of Paul McCartney is loved by people of all ages and cultures. This show affected so many people emotionally. It is already being regarded as a classic  - and it is less than a week old. We are fortunate to be living in a time when we still have an historic icon like Sir Paul among us. Thank you James for a great show."
All I have left to say is, when you find 23 minutes free, give this video a watch for yourself.