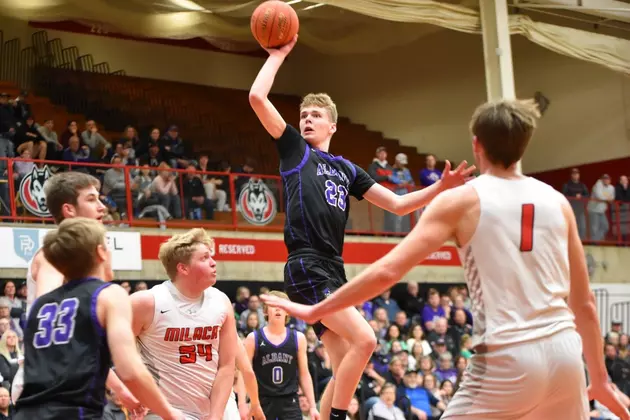 Albany, Eden Valley-Watkins Headed to State Boys Basketball Tourney
photo courtesy of @AlbanyBoysBball
Albany and Eden Valley-Watkins will play in the Class 2-A State Boys Basketball tournament this week. The Huskies are the #2 seed and will play Pequot Lakes at 6 p.m. Tuesday night in the State Quarterfinals at Williams Arena.  Albany captured the Section 6-2-A title Friday at St. Cloud State over Milaca 74-57.  The Huskies are 29-1 this season.  Albany's only loss came on December 29th in the Granite City Classic to the tournament's top seed Holy Family Catholic 76-68.  Albany beat Tuesday's opponent Pequot Lakes January 9 74-52.
Eden Valley-Watkins is unseeded and will play top seeded Holy Family Catholic at 6 p.m. Tuesday night at Target Center.  Eden Valley-Watkins captured the Section 3-2-A title Wednesday night in Marshall with a 75-72 win over Redwood Valley.
Alexandria will play in the Class 3-A State tournament Tuesday at noon against 4th seeded Mankato East. Alexandria is the #5 seed.
The Albany girls basketball team earned a 2nd place finish at the Class 2-A State Tournament Saturday.  They lost to top seeded Providence Academy 74-60.
Avon, Minnesota...in Pictures