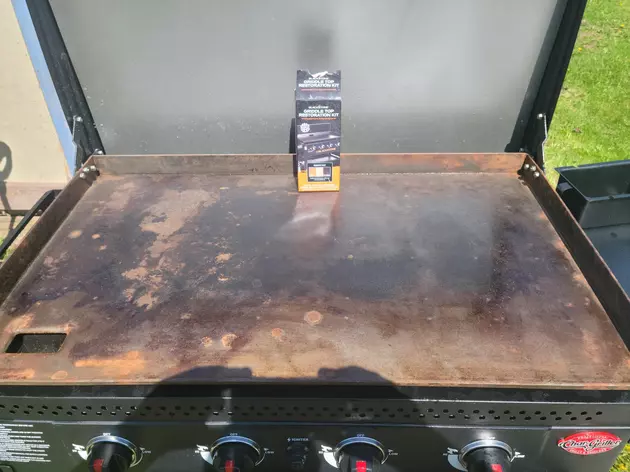 Does The Blackstone Griddle Restoration Kit Work?
Rusted Griddle- Photo Credit: Joe Danger
In June of 2021, we used up a bunch of Menards rebate money to get ourselves a Char -Griller Flat Iron Gas Griddle.
For whatever reason we didn't use it once during the 2022 grilling season.  We have a smoker and a charcoal grill and used those, but I think we were just gone so much and didn't host BBQs, and it just sat.
While I did have it covered, of course moisture made its way to the griddle top, and rusted it pretty badly.  When I pulled the cover off a few weeks ago, I was pretty disappointed in what I saw but also not totally surprised.
I've re-seasoned and cleaned up cast iron pans before, so I am pretty versed at getting rust off of metal and bringing cooking surfaces back to usable.  I decided to try a Blackstone Griddle Top Restoration Kit, and then to use the Blackstone Griddle Seasoning and Cast Iron Conditioner.
Following their directions, I cleaned the griddle top removing loose rust with a scraper and then washed the surface with soap and water, then rinsed and dried.  Next, I applied the griddle top restorer which looks like clear jelly and covered the rusted surface (the whole griddle top) with it.
After letting it sit for a few minutes, I began to agitate the restorer with the provided applicator pads.  I repeated the process three times for a few bad areas.  I then degreased the griddle top with Dawn Dish Soap, then dried and proceeded to season it.
To season with the Blackstone seasoning, you preheat the surface, apply the seasoning, and let it burn off.  I repeated this process three times and it came out decent enough.
I might purchase the restorer if my griddle gets that bad again, but I'll probably skip on their seasoning and just used a product like avocado oil or some other high heat oil like I do for cast iron pans.  I just don't think it was better than oils I normally use.  All in all, I am happyish with the results and hopefully use it enough this year to not have to do it again.
Foods That Northlanders Can Eat In One Sitting