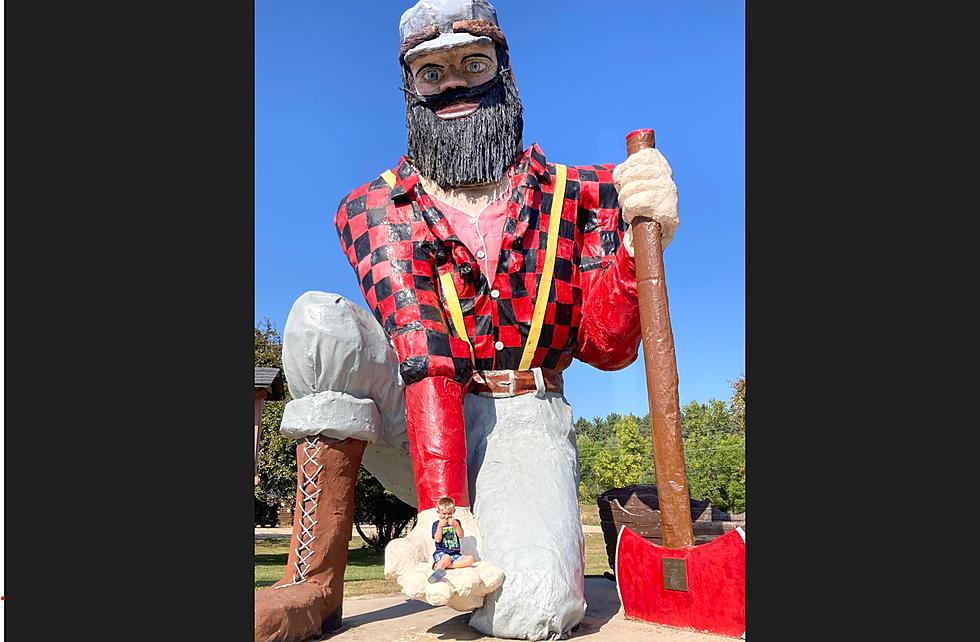 One Paul To Rule Them All: Which Is Minnesota's Best Bunyan?
PHOTO: Dave Overlund
My family and I took a trip to Akeley, Minnesota over Labor Day weekend. We had never been to Akeley before and as we drove through the (very) small town of 404 people, we saw a giant statue of Paul Bunyan!
AKELEY
It turns out that Akeley has decided it is the "birthplace of Paul Bunyan." According to RoadsideAmerica.com, the city created an 'oversized baby cradle' as a tourist attraction.
In 1949 the town declared itself the Birthplace of Paul Bunyan, and unveiled an oversized wooden baby cradle that sat in a park beneath a little roofed shelter. As an attraction it was, well, okay -- but as time passed and competing towns built big Bunyans, the cradle became a second- or third-tier Bunyan destination. So did Akeley.
In 1985 the city unveiled a new, giant Paul Bunyan statue that still stands today. Some fun facts about this statue include suspenders made of lumber mill machinery belts and his hair is made from a mile of resin-soaked twine.
BRAINERD 
Brainerd's Paul Bunyan is located at This Old Farm after moving from its original location in 2003. The coolest feature of this particular Paul is that it can talk.
One of my core memories takes me back to eight or nine years old and walking into Paul Bunyan Land in Brainerd. As we walked into the park, a giant, 26-foot-tall Paul Bunyan bellowed "HELLO, DAVID, GOOD TO SEE YOU AND WELCOME!" I damn near crapped my pants.
It took me a few years to figure out how they did it!
BEMIDJI 
To me, as much as I love the other two Bunyans, the Bemidji one is my favorite for a few reasons. One, it was the first one I had heard about and the first one I had ever seen. Two, there was a really cool poster of Johan Santana as Paul Bunyan next to Babe the Blue Ox (I can't find an image of this anywhere). And three, I just think it is the coolest-looking of the three Bunyan statues.
BONUS BUNYAN: JIM THOME 
Jim Thome took a turn as Paul Bunyan in this 2010 Twins commercial:
LOOK: Record Fish Caught in Minnesota
Stacker
compiled a list of fishing records in Minnesota from Land Big Fish.