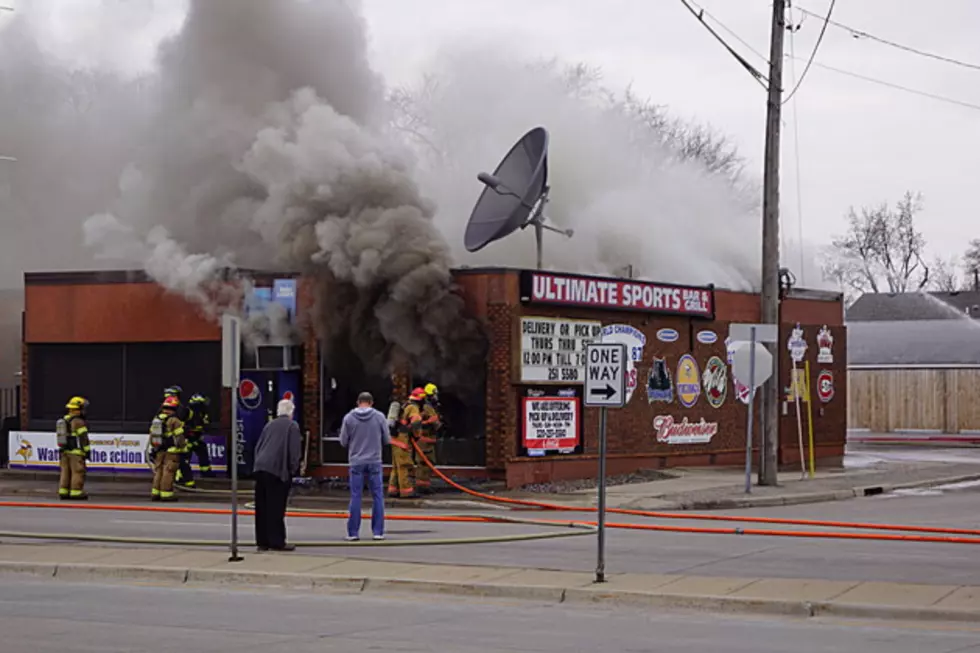 Owners of the Ultimate Sports Bar Issue Heartfelt Statement
(Photo: Alex Svejkovsky, WJON)
Anyone who had been to the Ultimate Sports Bar and Grill in Waite Park knew how special the place was. It was a place my friend group found ourselves numerous times, gathered around a beer tower, catching a game, and catching up.
The fire at the establishment on Monday April 6th shook the community and the building itself suffered severe fire, water and smoke damage throughout.
Last night the owners took to the Ultimate Sports Bar Facebook page to update their community:
I just would like to reach out to all of you incredible people who have reached out to me and my family during these incredibly trying times. Quit simply, I am not sure that I truly have yet grasped the reality of what all occurred within my business and personal life here today. As tomorrow arrives, and day by day begin to go by, the reality of it all will begin to settle in, for it has been a journey of 34 years of my life. I have never claimed to be the best bar owner on this crazy earth of ours, but I hope that all of you who I have been blessed to call my customers, have always felt and appreciated the energy, love and passion I have poured into my job and my business, each and every time you entered though our doors. For all of you regulars that have been so loyal for so very long, thank you! I tried to make you feel proud to call that bar yours, as much as I prided myself on calling it mine. If you where there for the first time, just stopping for a sporting event, coming in for a plate of wings, or just passing by on occasion, I hope you felt our love and passion along the way as well, for I did truly care, and I always APPRECIATED! I lived for what I signed on to do for a living, and you all made it a blast throughout! I wish I could tell you what the future holds for me and the Ultimate Sports Bar & Grill as I begin this new and surreal journey tomorrow, but I truly will need time to reflect on it all. If I were a betting man (and I am not), I would lean on you all having a drink in a new and beautiful Ultimate Sports Bar & Grill someday soon!! Thanks for your love, thanks for your business, and thanks for allowing me to do something that I have had the great pleasure, and great passion to do for these past 34 years! To all who have ever worked for me, THANKS, for I know I never made it easy, but I also know very few have ever cared as much! Nobody was hurt, buildings can be rebuilt, and memories can be created yet again! With complete sincerity,

Tom, TJ, Katie and Alexis Frericks
Enter your number to get our free mobile app
I have my fingers crossed that they rebuild. The establishment was a special place that created a lot of wonderful memories for a lot of people. It is also the only place I had ever seen put Cool Ranch Doritos on a hamburger. It is something more people need to experience, it changes burgers forever. We miss you already Ultimate! We are keeping your team in our thoughts and prayers.
Here is one of my favorite memories of being at Ultimate, my friends and I were there for a fight and had to test our punching skills:
View this post on Instagram
Our Listeners Share Their Hopeful 'Worlds of Hearts' Creations During Pandemic