You always save with The Value Connection and hundreds of values every single day. Here are some more extra-special limited-time savings, available at our website, over the counter at our retail outlets or by calling us at 320-258-SAVE.
---
WEEKEND RESTAURANT DEALS
Prices in effect through Noon, Monday, April 12th.
A & W ALL AMERICAN FOOD IN ALBANY AND RICHMOND
$5 certificate for just $3.
ANTON'S
$10 certificate valid Sunday, Wednesday and Thursday toward dine-in for just $6.
AVON CABIN CAFE
$5 certificate for just $3.
BELLO CUCINA
$20 lunch of dinner certificate for just $15.
COYOTE MOON GRILLE
$10 food and beverage certificate for just $7.
DINO'S LAKESIDE IN EDEN VALLEY
$10 certificate for just $6.
DRAKES FINE FOOD & SPIRITS IN SARTELL
$10 food certificate for just $6.
JORDIE'S TRAILSIDE CAFE IN BOWLUS
$10 food and drink certificate for just $6.
PACIFIC WOK
$5 certificate for just $3.
$10 toward deliver/pickup for just $6.50.
PERKINS RESTAURANT & BAKERY
$10 certificate for just $6.
RED RIVER INN IN COLD SPRING
$5 food and drink certificate for just $2.75.
SAWATDEE
$10 certificate for just $5.50.
SUPER BUFFET
$5 certificate for just $3.
Purchase limit of 10. Limited quantity available.
TACO GRINGO IN CLEARWATER
$5 general certificate for just $2.75.
---
NEW ITEM
LAKES JAM
Lakes Jam is a annual event that unites rock and country music fans from all walks of life and brings them together in the Brainerd Lakes area.
Located in lakes country on the grounds of Brainerd International Raceway, the area boasts beautiful scenery and allows Lakes Jam to offer optimal camping and weekend fun. Founded in 2012, Lakes Jam intends to deliver a line-up from an array of excellent live performing artists every year. Each year will be different, fresh and exciting.
See all of our special offers for Lakes Jam.
---
NEW ITEM
WOODS FARMER SEED & NURSERY
Let the pros at Woods Farmer Seed & Nursery in Waite Park give your lawn the boost it needs this season. From flowers and vegetable gardens to bird baths and other ornamental furnishings, Woods products and services can help you with all your landscaping needs.
---
NEW WAY TO SHOP THE VALUE CONNECTION!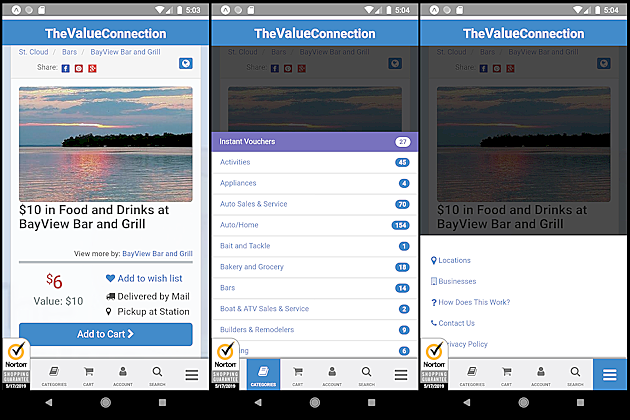 Shop easier with our NEW App! Available now for both Apple & Android phones!
Click here for more information!
---
FOLLOW THE VALUE CONNECTION ON FACEBOOK & TWITTER
Follow The Value Connection on Facebook and Twitter! Stay up-to-date on our newest items, limited time specials, on location events and more.
---
Here are several ways to order from The Value Connection:
-- Shop online at TheValueConnection.com. We'll mail certificates to you.
-- Call 320-258-SAVE (320-258-7283) to place your order. We'll mail certificates to you.
-- Buy and pick-up certificates at one of our retail outlets:
Value Connection Headquarters for Townsquare Media at 640 SE Lincoln Avenue, Monday-Friday 8-6, Saturdays 9-1.
Cash Wise Waite Park at 113 Waite Ave S in Waite Park Monday - Saturday 8:30-5. (Closed 12:30p - 1p for lunch daily)
---
Sign-up for our Value Connection Newsletter!
We'll deliver weekly specials on Monday mornings and weekend specials on Friday mid-day!
*

 Email

*

 First Name

*

 Last Name

*

 Zip

*

= Required Field
Email Marketing You Can Trust