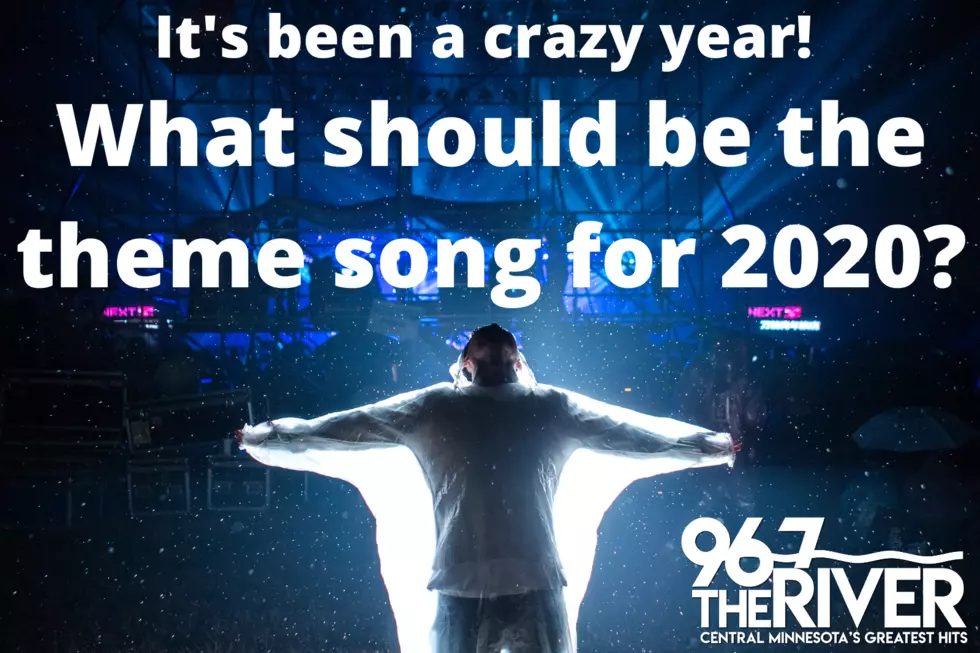 Minnesotans Pick Their Theme Songs for 2020
Canva
COVID-19, quarantine, riots and politics. Businesses closing, events canceling, and kids distance learning from home. All of those things have made 2020 a weird and crazy year. Normally, that would be more than enough for any single year and yet we are not even halfway through this one.
If any year needed a theme song, it's 2020. So we asked our River listeners in Central Minnesota -- If you could give the year 2020 a theme song, what would it be? We got a wide variety of answers that expressed pessimism, optimism, and humor. First, Abbey and I gave our songs.
David Black: "Hold On" - Wilson Phillips or "Crazy Train" - Ozzy Osbourne
Abbey: "Disaster Party" - Magic Giant or "Breakdown" - Tom Petty
Here's what some of our listeners said.
Rene Krueger: "It's The End Of The World As We Know It" - R.E.M.
---
Mark Stimack: "Invisible Sun" - The Police
---
Carol Pohl: "People Are Strange" - The Doors
---
Nancy Updike Johnson: Louis Armstrong - "What a Wonderful World". There is hope.
---
Elaine Kolb Taufen: "Livin' on a Prayer" - Bon Jovi
---
Dustin Matosich: Ground Control To, "Major Tom" - David Bowie
---
Margarita Castillon: "Sign of the Times" - Prince
---
Gail Fellingham Berndt: "We Are The World" - USA for Africa
---
Lynn Wear Mahlum: "Help!" - The Beatles
---
Michelle Schwartz: "Yesterday" - The Beatles
---
Jeff Miller: "Don't stand so close to me" - The Police
---
Lynette Eder: "Final Countdown" - Europe
---
Julia Ann: The sun will come out. "Tomorrow" - Annie
---
Lynn Jeffries Hallgren: "I Will Survive" - Gloria Gaynor
---
Barb Haskamp-George: "All My Rowdy Friends..." - Hank Williams Jr
---
Kurt Richter: Well "Crazy Train" is perfect
Enter your number to get our free mobile app
Foods That Could Kill Your Dog or Make Them Very Sick