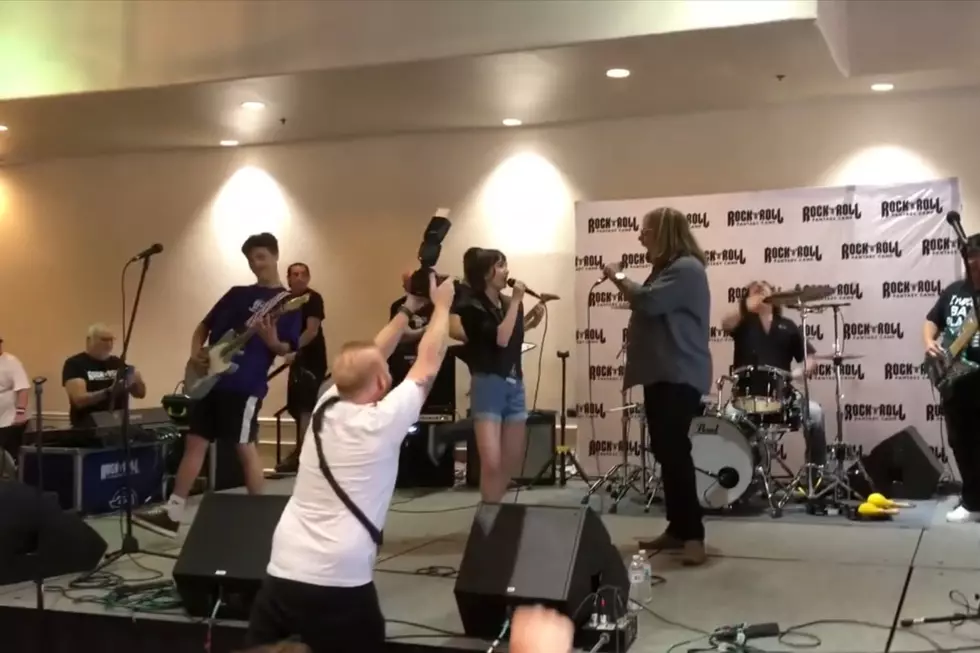 [WATCH] Obnoxious Photographer Shooting Vince Neil Put On Blast
Alex D Cheatham via Youtube
This is exactly how you don't photograph a concert.
Video of an overly obnoxious photographer shooting Motley Crue's Vince Neil is going viral for all the wrong reasons.
Rock and Roll Fantasy Camp -- where musicians and non-musicians get to "jam, write and record live with the world's greatest rock stars" -- just wrapped up in Las Vegas. This year's Fantasy Camp guest rockers included Lou Gramm of Foreigner, Joe Perry of Aerosmith and Vince Neil of Motley Crue.
A video uploaded to Youtube by Alex G Cheatham shows one band putting on a fairly impressive performance with the Motley Crue frontman. Unfortunately, the performance that's left everyone talking afterward is a different one altogether -- that of the overly-obnoxious photographer.
As you can see in the video below, the photographer nearly steals the show with his awful etiquette -- running around in front of the stage, climbing on the stage, jumping off the stage, moving Neil's microphone stand out of the way without asking, pointing and clicking his camera without regard for what he's shooting and -- worst of all -- using flash. You know when you go to a professional concert or event and they tell you "No Flash Photography"? That's for a reason -- it's disruptive to the performers, it's unprofessional, and -- if you know how to use a camera or anything about photography -- it gives poor results.
Apparently, this guy didn't get the memo.
Feedback in the video's comments section is brutal and blunt.
"Who gave that guy photo priveledge? Honestly...." reads one.
"I photograph concert professionally for the largest wire service in the world (GETTY IMAGES)," says another. "I can tell you, if that guy was in the photopit with me, I would ream him a new A-HOLE (verbally)... His career wont last long, promise you that"
"The photographer should be incarcerated and his flash should be taken away from him for life," says another.
Needless to say, the band may be going places with their careers. This photographer? Probably not.