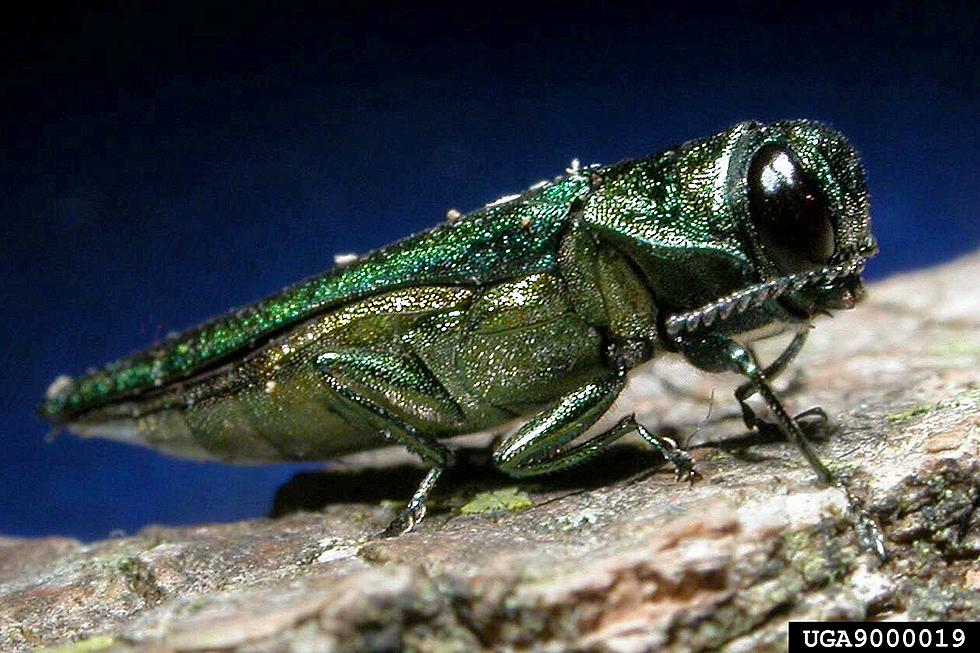 35 Minnesota Communities Receive a Total of $2.4M to Fight Emerald Ash Borer
Emerald Ash Borer (David Cappaert, Bugwood.org)
(The Center Square) – Thirty-five Minnesota communities received, combined, $2.4 million in state grants to protect urban forests, the state's Department of Natural Resources announced Friday.
The Protect Community Forests by Managing Ash for EAB Grants Program funding was provided by the Minnesota Environment and Natural Resources Trust Fund as recommended by the Legislative-Citizen Commission on Minnesota Resources, DNR Community Forest Project Specialist Emma Schultz told The Center Square Friday. The Trust Fund, a permanent fund constitutionally established by Minnesota citizens, helps fund the protection and enhancement of the state's natural resources. Forty percent of net proceeds from the state lottery go to the fund.
The funding will support tree inventories, management plans, ash tree removal, treatment with non-neonicotinoid insecticides, tree planting and materials, like mulch, to support newly planted trees, according to a department news release. The funding is supposed to help communities proactively care for ash trees before they become infested, which is more cost-effective than waiting for infestation. Many communities find identifying infected or at-risk trees and addressing emerald ash beetle challenges an obstacle.
Schultz said in the release that urban areas of Minnesota contain "a significant number" of ash trees, which are at risk of attack by the emerald ash borer, which can kill ash trees in just a few years.
"All ash trees in the state are at risk of infestation," she said.
The emerald ash borer isn't native to Minnesota, and it's so far been confirmed in 41 of the state's 87 counties, the release said.
"This funding is critical for meeting communities where they are at and assisting them with their community forest management needs," Schultz said.
In some communities, about half of the trees are ash trees, she said. For example, in the Twin Cities metro, standing dead ash trees have become commonplace in the past few years.
"This funding helps to alleviate some of these EAB-related financial constraints, although we know that the need statewide outpaces what was available through this program," she said.
Rochester and Woodbury received the largest grants, of $149,546 and $149,600, respectively, according to the release. Apple Valley, Eden Prairie, Hopkins, Moorhead, Saint Peter, South St. Paul and Winona each also received more than $100,000. Oronoco received the smallest grant, $9,456.
Emerald ash borer was discovered in Rochester in 2015, and ash comprised 15% of the estimated 100,000 public trees, the release said.
"EAB has drastically changed the way our urban forest looks," Rochester's Urban Forestry program coordinator Alison Litchy said in the release. "Fortunately, we are able to treat and maintain treatments for approximately 4,000 public ash trees through the help of this grant. Preserving these trees through treatment allows us to retain the canopy of 8% of our public tree population. The retained trees provide a variety of benefits to our community such as reducing temperatures, capturing air pollutants, and slowing down stormwater during this great time of loss."
Litchy said the city uses non-neonicotinoid insecticides and certified arborists to treat trees to protect pollinators and other non-target organisms.
Schultz said that the City of Woodbury is removing ash trees and replanting with various new tree species. The city proposed prioritizing removals in Community Development Block Grant areas, where people tend to have low or moderate income, before moving to wealthier areas of Woodbury. The city has estimated that it will be able to remove 136 ash trees and plant about 150 trees, but the final number will depend on how many of the removals are very costly. Removals of large trees, trees that are unhealthy or failing, and trees close to homes and other structures are more costly than removals in other circumstances.
The department anticipates opening another round of grant funding, with more than $16 million available, by August, the release said. The grant program, which began in 2022, runs through June 2025.
SEE INSIDE: Hobbit House In Hastings, Minnesota For Sale
The Center Square
is a project of the 501(c)(3) Franklin News Foundation. We engage readers with essential news, data and analysis – delivered with velocity, frequency and consistency. If you would like to read the original article,
click here.