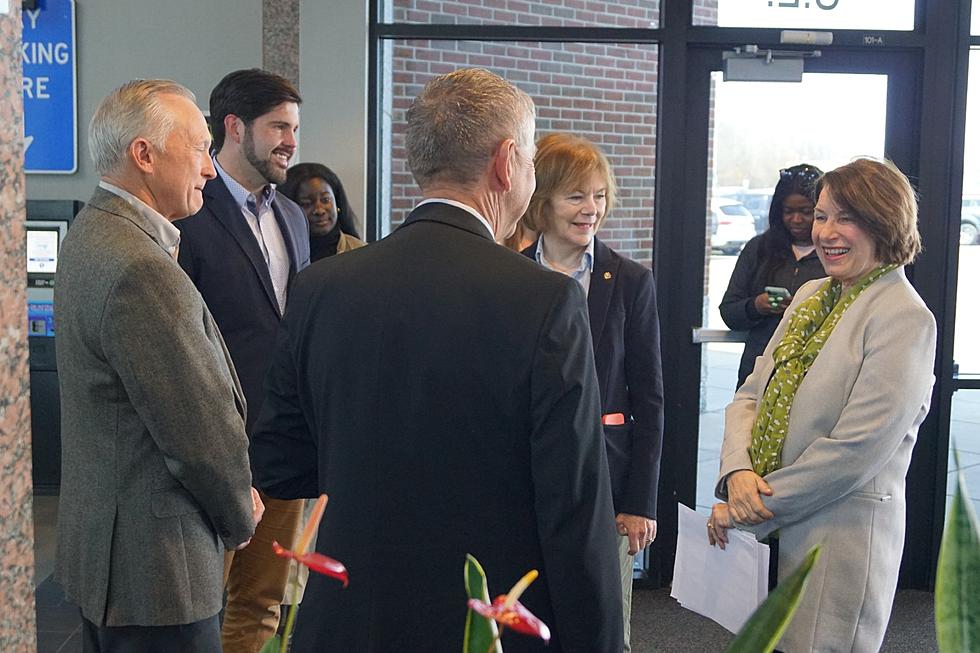 Klobuchar and Smith Announce Grant to Improve Airport
(l to r):Brian Myres, Dan Wolgamott, and Dave Kleis visit with Senators Tina Smith and Amy Klobuchar in St. Cloud Monday. Jeff McMahon, WJON
ST. CLOUD (WJON News) - Minnesota Senators Amy Klobuchar and Tina Smith were in St. Cloud Monday to announce a grant for almost half a million dollars to replace equipment in the air traffic control tower.
The grant was through the Infrastructure and Investment Jobs Act, which both senators helped pass.
Senator Smith said investments in regional airports will help the economic engine of Central Minnesota continue to grow.
St. Cloud is, as you know, one of the largest cities in the state of Minnesota and you are an important economic and cultural hub for the state. Your strength not only benefits this community but it benefits all of the regional, all of the smaller communities that are around St. Cloud. This regional airport helps to make this whole system work - the whole ecosystem of the St Cloud region work.
Brian Myres, Chair of the St. Cloud Regional Airport Authority, says the money will be used for a number of projects:
Equipment in the Air Traffic Control tower will be replaced. It has reached the end of its useful life, and the manufacturer no longer supports it.
An additional hangar will be built to accommodate more aircraft at the airport.
The current fire and rescue truck is over 20 years old. It will be replaced.
Senator Amy Klobuchar said the delegation works to help smaller, regional airports across the state. St Cloud received this grant, and the airport in Thief River Falls will be expanded to handle larger aircraft to deliver products for local manufacturing businesses.
We always have to stand up for the 256 smaller airports across the country. It's a good deal for taxpayers, helps rural communities, and supports military readiness and national security.
Officials with the St. Cloud airport say the facility is unique with the types of aircraft they handle in their airspace. In addition to air traffic heading to MSP, there's also local jet and single-engine traffic as well as slower military helicopters. That diversity of air traffic was a major point in the application for funding.
READ RELATED ARTICLES
Come Explore Foley, Minnesota in Pictures