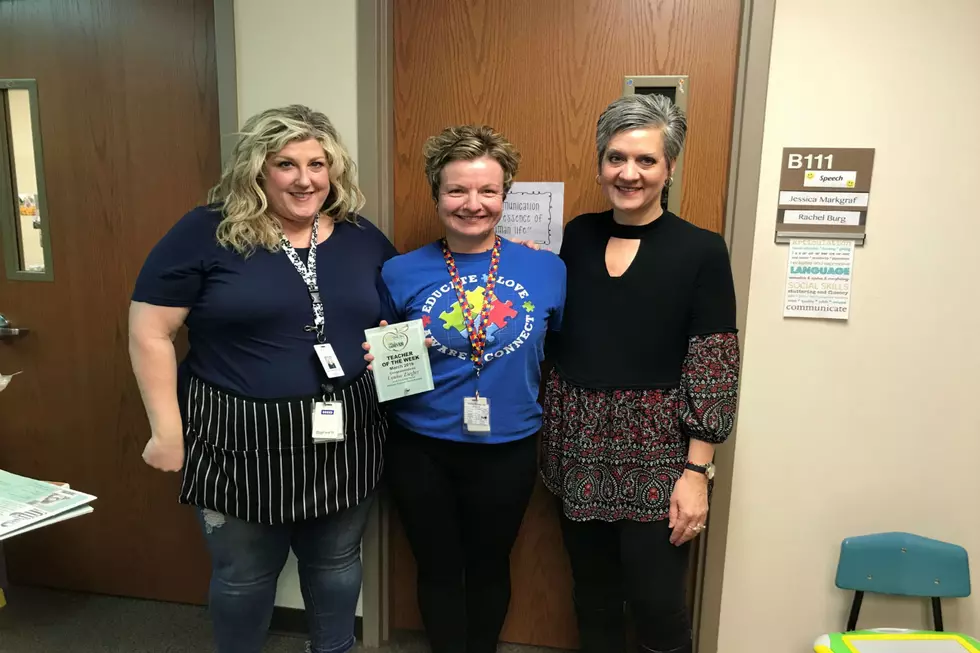 Louise Ziegler Is Our Teacher Of The Week!
Dave/Ashli Overland     (PHOTO: Melissa, Teacher of the Week-Louise, Pam)
We love our teachers. And we love surprising a different teacher every week with goodies from Great Harvest Bread, gift cards from Coyote Moon Grille and Concrete Image Salon, and a beautiful award from All-Star Trophy and Awards.
This week, our teacher of the week is Louise Ziegler! She's an ECSE Pre-School Teacher at Hillside School in Sauk Rapids. There are 4 paraprofessionals that work in the classroom with her, and they love her so much, they wanted to say thank you. Here is the letter that Pam sent us on behalf of herself, Amy, Tracey and Melissa:
I am one of four paraprofessionals that work in Louise's classroom. We heard about your contest and knew that we had to nominate her. This nomination is from all of us. Louise is a phenomenal teacher. The children in our class are Early Childhood, Special Education students primarily with autism. Many are not verbal, they have a lot of behaviors and require extra direction and supervision. Louise is a dedicated, constant, stable, loving and nurturing, but stern teacher and advocate for her students. They are very smart, but learn in a different way. Louise constantly has to change techniques, develop new strategies, and adapt to each child's individual needs, to be able to teach them in a way that works for them to learn. Their behaviors can be quite challenging, but Louise has this ability to be stern, in a loving way, that just works. The kids love her. She dedicates a lot of time to schedules, repetition, and structure to teach the skills they need to function and flourish in the school environment. We are all amazed by the progress these kids make under her direction!
Louise is also a fantastic co-worker. She treats us as her equals. She asks for our input, listens and implements our ideas and suggestions. She has fostered an environment where we work as a team. We have each others backs, and when our work gets hard and challenging, we support each other.
Louise is also a loyal friend. On a personal note, I have worked with Louise for a number of years. Last year, I missed much of the year as I was on personal leave while I battled Stage 3 breast cancer. Louise brought me food, visited me, made sure I celebrated milestones like when I finished chemo. She constantly sent me encouraging texts, especially before each chemo session, and was always checking in on me. She was there for me when I needed a friend.
Louise deserves to be recognized because she is a phenomenal, dedicated teacher, a fantastic co-worker, a loyal friend, and an exceptional person.

With a lot of love from her para's,
Pam, Amy, Tracey & Melissa

 
Thank you, Louise, for making a difference in the lives of children every single day!