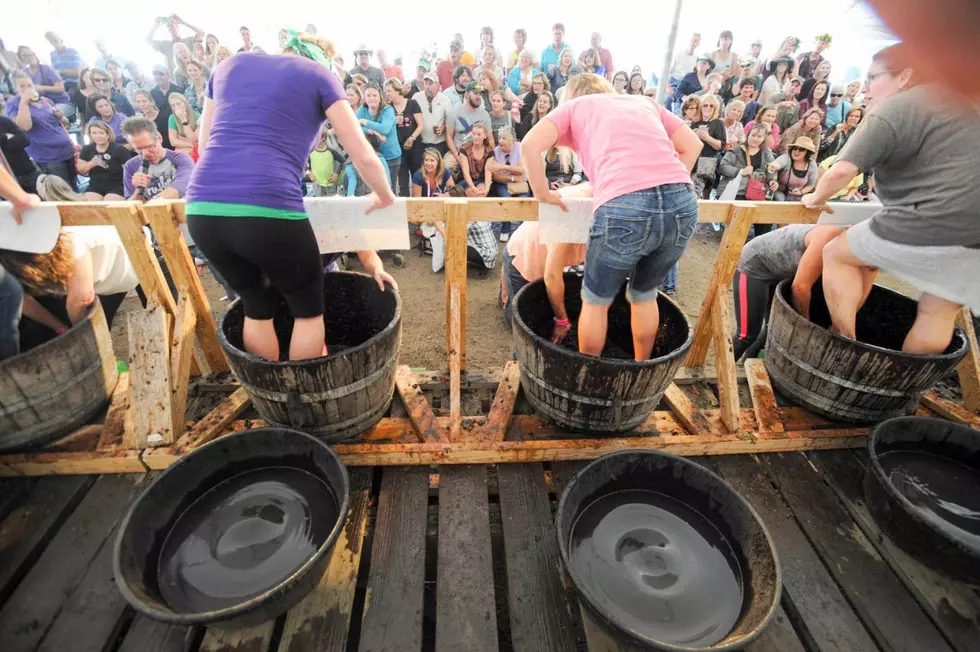 Carlos Creek Grape Stomp & Fall Fest Just Around the Corner
Carlos Creek Winery via Facebook
Carlos Creek Winery's annual Grape Stomp and Fall Festival is coming up the second weekend of September!
Stomp your way to victory or just watch and cheer at Carlos Creek's annual Grape Stomp and Fall Fest Friday, September 13 through Sunday, September 15!
The three day festival is packed with excitement including 12 bands on 4 stages, over 150 food, juried art and marketplace vendors, a man cave featuring August Schell's & Fargo Brewery, wine tasting, and of course Grape Stomping!!
Over the course of the three days, over 300 teams will compete to stomp 10,000+ pounds of grapes. Eight teams of two -- consisting of a "stomper" and a "juicer" --compete at a time. Winning teams earn "We Came, We Stomped, We WON" T-Shirts and advance to the Grand Championship round at day's end.
In addition to the grape stomping contests there are daily costume contests! Friday is Toga Day; Saturday is Lucy Look-A-Like Day and Sunday is Minnesota Viking Fan Day. Additional winners are made each day for Best Overall Team Theme. Winning teams each receive two bottles of Vino D'Feet wine.
Additional events over the course of the three days include live music, vendors, wine tasting, beer tasting at the new 22 Northmen Brewing (on-site), Viking game experience on Sunday and a free "Little Foot Stomp" for kids ages 10-16!
Admission tickets must be purchased (it's cheaper if you book online than at the door). Parking is available on-site, and free shuttles will run between locations around Alexandria.
For more details on Carlos Creek Winery's upcoming Grape Stomp and Fall Festival, visit ccwgrapestomp.com.